On September 7, 2016 Terry Beech, MP Burnaby North-Seymour held a Pacific Caucus Forum Town Hall at SFU. Mr. Beech, Joyce Murray, MP Vancouver Quadra, and Joe Peshisolido, MP Steveston-Richmond East were in attendance as were more than 200 concerned residents.
I was invited to give a presentation on the NEB and the Trans Mountain Review Process. After the presentation I appreciated the comments from the people in attendance and many asked for a copy of my speaking notes.
Provided below is a transcript of my presentation with links (in red) to the sources.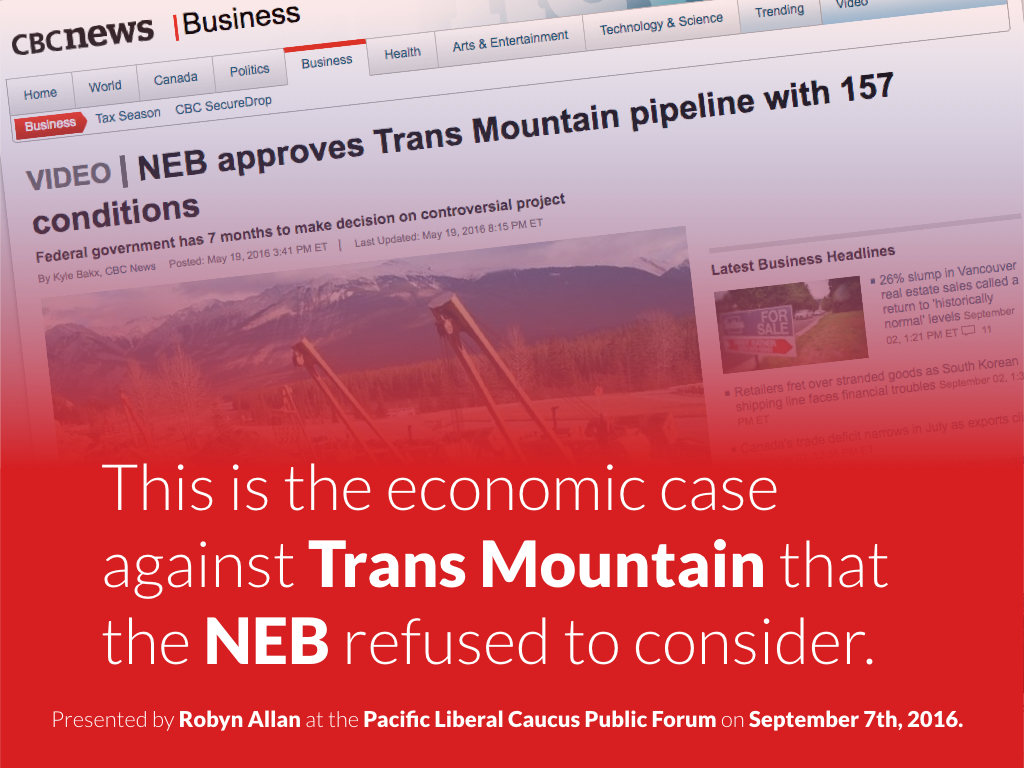 Source: CBC News
Thank-you for this opportunity to discuss the National Energy Board report and the economics of Trans Mountain's proposed expansion.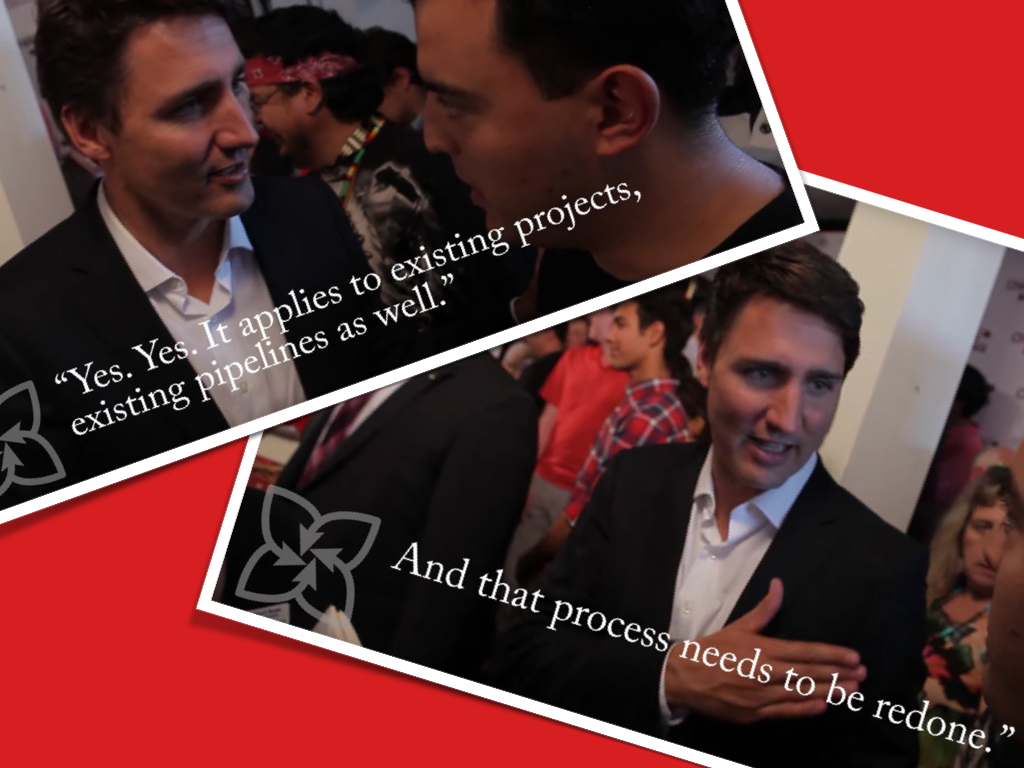 Source: Dogwood Initiative
Prime Minister Trudeau recognized this time last year that the NEB could not be trusted. He said the Board had "torqued" reviews making it easy to recommend approval. The Board did this by narrowly scoping issues, removing cross-examination, refusing to compel answers to information requests and by not testing evidence.
Mr. Trudeau said the NEB overhaul would apply to existing reviews—that Trans Mountain's would be redone.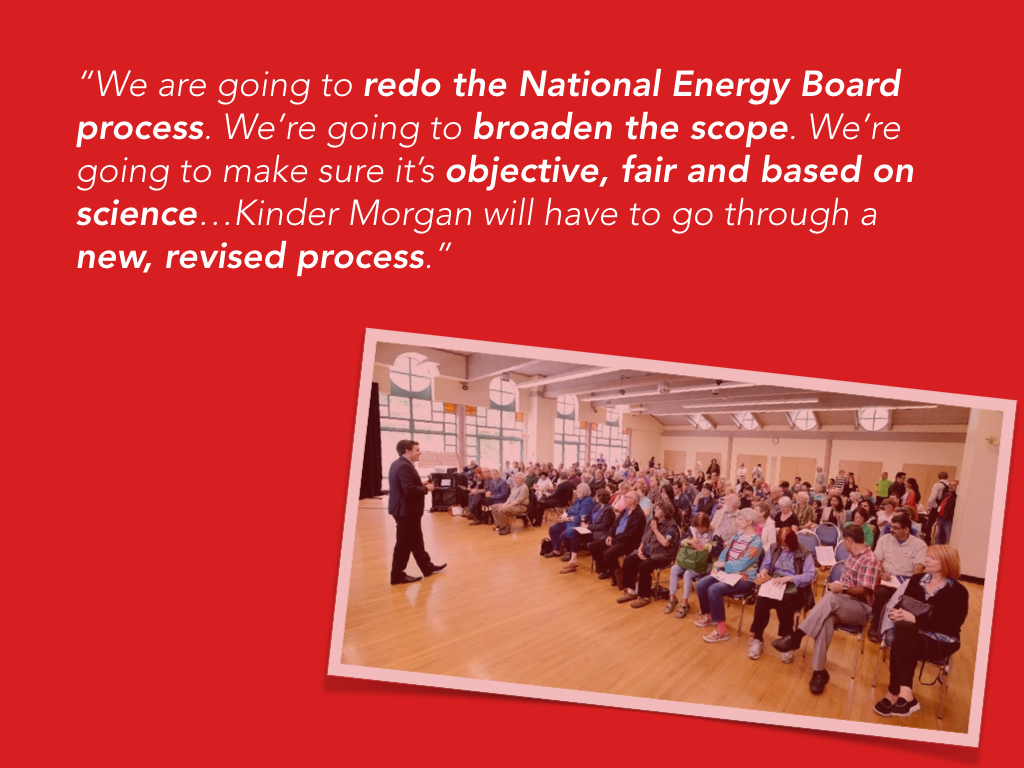 Source: North Shore News
After the election, Mr. Beech confirmed "We are going to redo the National Energy Board process."
North Vancouver MP Jonathan Wilkinson said, "The Kinder Morgan Expansion Project must satisfy this new rigorous review…"
Kinder Morgan is not undergoing a credible review process. Kinder Morgan is not undergoing anything. And the people of Canada don't know why.
Instead a Ministerial Panel was sent to gather impressions as it travelled the pipeline route. Meetings were poorly administered and poorly advertised. The Panel has no investigative powers or scientific expertise.
Recent statements by Natural Resources Minister, Jim Carr, tell us the fix is in. He said that now his Panel has heard from "opponents" this will lend "credibility" to the Government's decision in December.
Suggesting that 3-5 minutes in front of an ill-prepared Ministerial Panel is—and I quote Minister Carr—"the right process"—is an insult to the intelligence of the people of Canada.
Caucus members here tonight must take a message back to Ottawa.
Canadians have not been given due process. Without due process, permission for Trans Mountain's expansion will never be given.
The Harper government stacked the Board with patronage appointments, gutted environmental legislation and politicized the process.
Trans Mountain's consultant, Steven Kelly, was appointed to the Board even while the NEB review was ongoing.
Lynne Mercier and Jacques Gauthier were reappointed even though their terms did not expire until a month after the Liberal government was sworn in.
Mercier, Gauthier and Board Chair Peter Watson met privately with industry to discuss an Energy East strategy.
This should put to rest any notion that the Board is credible.
What I will focus on tonight is how the NEB parrots Kinder Morgan's economic narrative and how it uses this in its report to misinform the federal government.
The economic cost of Trans Mountain's expansion to the Canadian economy—when properly scoped and fully tested—outweigh any economic gains.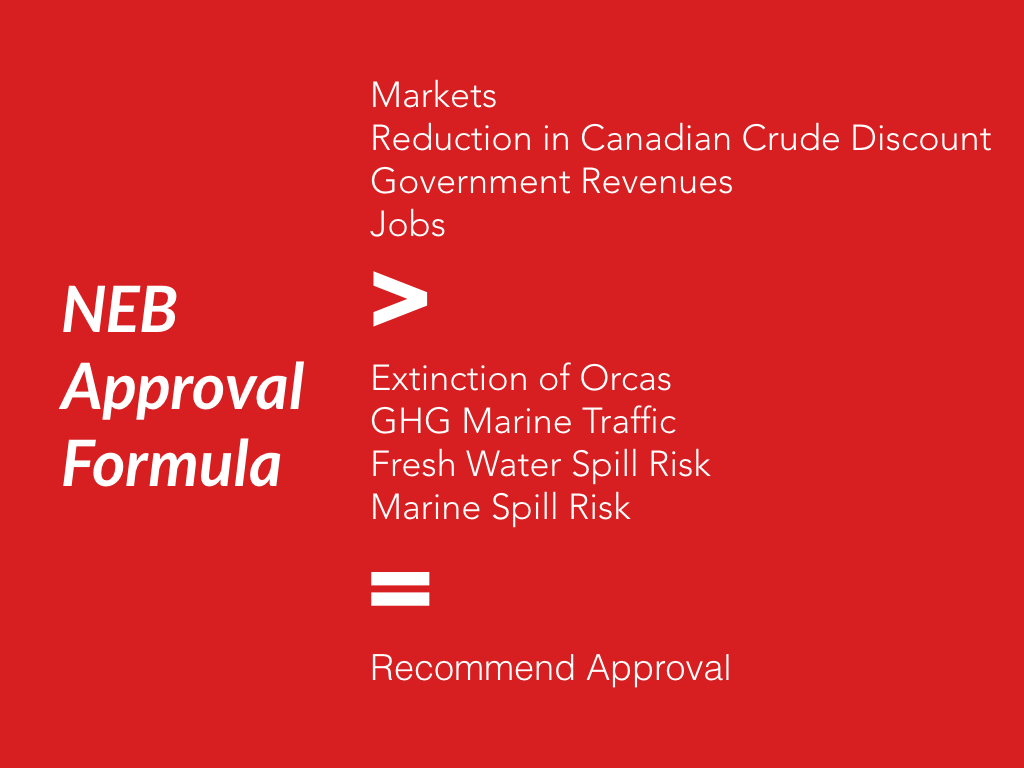 The Board's report says the benefits are Markets, a Reduction in Canadian Crude Discount, Government Revenues and Jobs. (page xiii and xiv)
The Board puts these Benefits up against Residual Environmental Burdens and claims these benefits exceed burdens so the project should be approved.
Let's start with Markets.
There are 13 potential crude oil shippers. None provided evidence on where markets in Asia might exist. None said Trans Mountain's expansion will reduce price discounts leading to crude oil price lifts.
Offshore markets, and a reduction in crude discounts because of them, are an invention of Trans Mountain's consultants, Steven Kelly of IHS, and then Neil Earnest of Muse Stancil.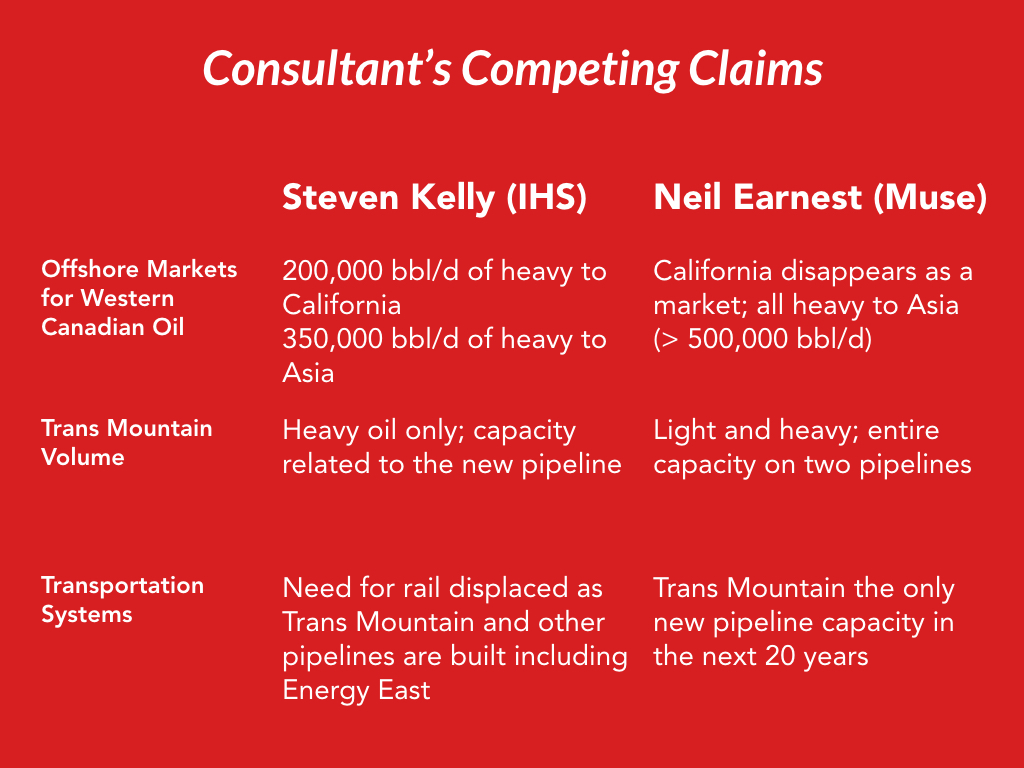 After relying on Mr. Kelly's report for almost two years it was stricken from the Hearing Record when Mr. Kelly was appointed to the Board.
A few weeks later, Mr. Earnest's evidence replaced Mr. Kelly's. It told a very different market story.
With Mr. Kelly's evidence stricken, the Board said it would no longer consider it.
The Board refused to reconcile serious differences about markets from two consultants working for the same proponent at the same hearing.
Asia does not currently receive Alberta's diluted bitumen—there is no Asian market for Alberta's oil.
The Board has been promised offshore markets by Kinder Morgan before.
Half a decade ago Kinder Morgan said that if guaranteed access to the Westridge dock was granted, offshore markets—with certainty—would develop. The Board approved Kinder Morgan's application.
The Board didn't bother to check whether promises Kinder Morgan made were promises Kinder Morgan kept.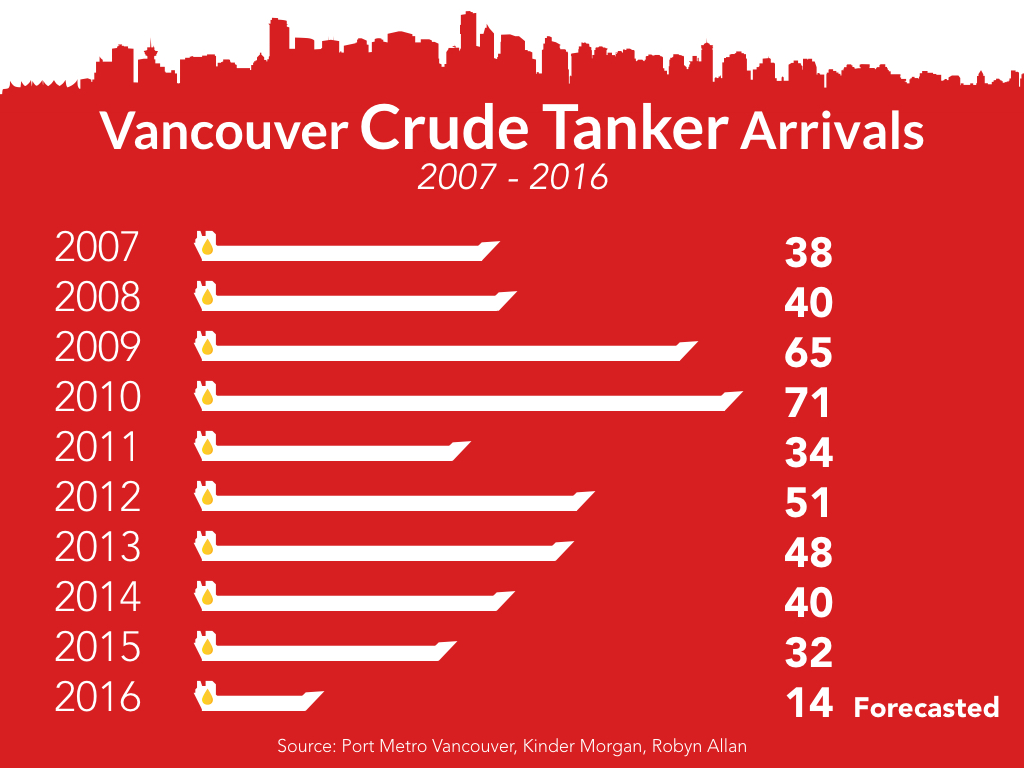 If it had it would know export commodity statistics show no Asian markets for Alberta's heavy oil.
In its report the NEB states 5 tankers per month are loaded at Westridge. There haven't been five tankers a month since 2010.
Fewer than 3 tankers a month were loaded in 2015 and barely 1 a month for the first half of 2016.
And none of them went to Asia.
So, if markets do not exist, why would oil producers sign 20 year take or pay contracts?
Shippers only said they want the opportunity to develop markets, not that they exist.
Market prospects have seriously deteriorated since 2012 when shippers signed on.
Oil prices then were more than double what they are now. Producers expected to supply a lot more oil.
Why do shippers continue to support the project if market prospects have tanked?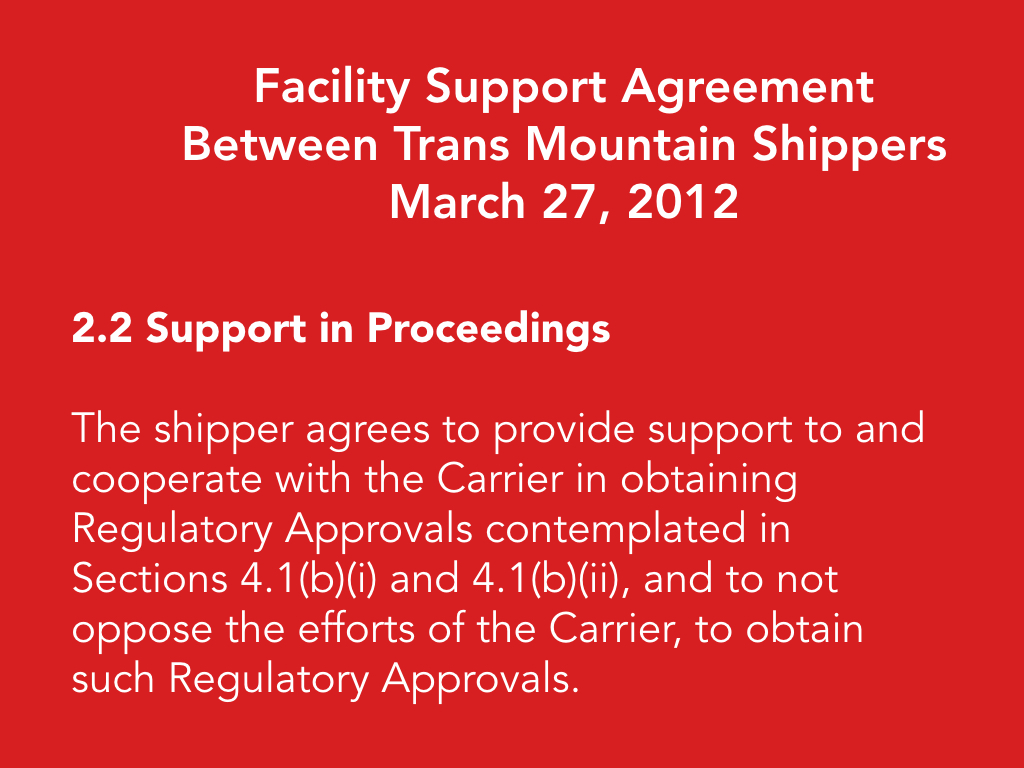 They are contractually obligated to say they support the project even if they don't. And they must keep saying they support the project until after government approval is granted.
If the Board had read the contracts it would know this. But the NEB Panel never asked Trans Mountain to file the contracts at the hearing so it could read them.
Unless the contracts were filed on the hearing record by Trans Mountain, the Board would not consider them. The Board relied on what Trans Mountain chose to reveal about the contracts and did not test to see if Trans Mountain's limited disclosure was reliable. The Board drew erroneous conclusions in its report about the strength of shipper commitments and the need for the project because it relied on hearsay.
Had the Board read the contracts it would know Clause 3.2 (b) says that if capital costs of the Project exceeds $6.8 billion triggering tolls that exceed the Open Season Toll Limit, shippers can walk.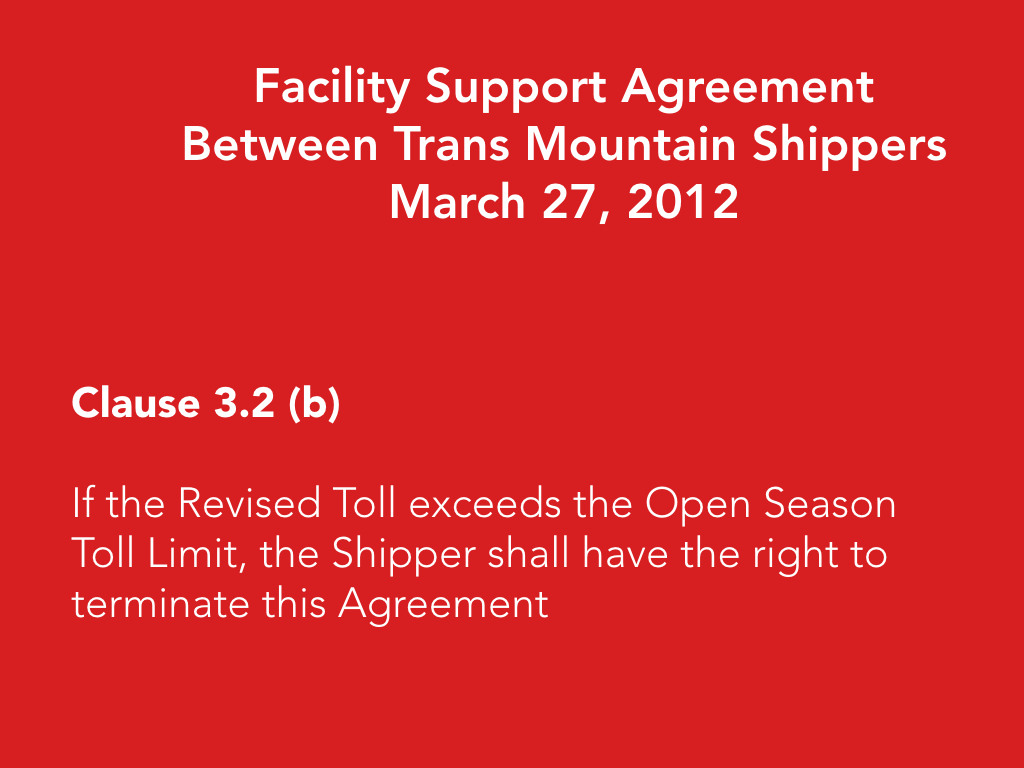 The NEB report refers to a $5.5 billion project. (page 262)
Everyone except the NEB knows that Kinder Morgan raised the capital cost of its project to $6.8 billion. This happened almost a year ago.
The Board did not ask Kinder Morgan to provide an updated capital cost during the hearing. Why? Because it avoids obvious questions… and the Board didn't want the answers.
A $6.8 billion capital cost compromises the likelihood that shippers will be bound to their contracts.
The Board's refusal to consider a more accurate capital cost, and the higher toll rates that come with it, meant the Board could accept overstated price lift benefits and pretend Canadian crude price discounts will be reduced.
When accurate toll rates are considered Mr Earnest's price lifts fall by almost 80%. The remaining 20 percent disappear because facts show price discounts for Canadian crude are within the normal range. They have nowhere to be further reduced.
Diluted bitumen always sells at a discount to West Texas Intermediate (WTI). It is a lower quality crude and costs more to refine. It also costs more to transport by pipeline because it is so dense. The crude discount is there because it takes quality considerations and transportation costs into account.
According to an NEB research report (see page 7), the normal discount the Board expects for Western Canadian Select (WCS)—the highest quality of heavy oil—is about $20 US a barrel.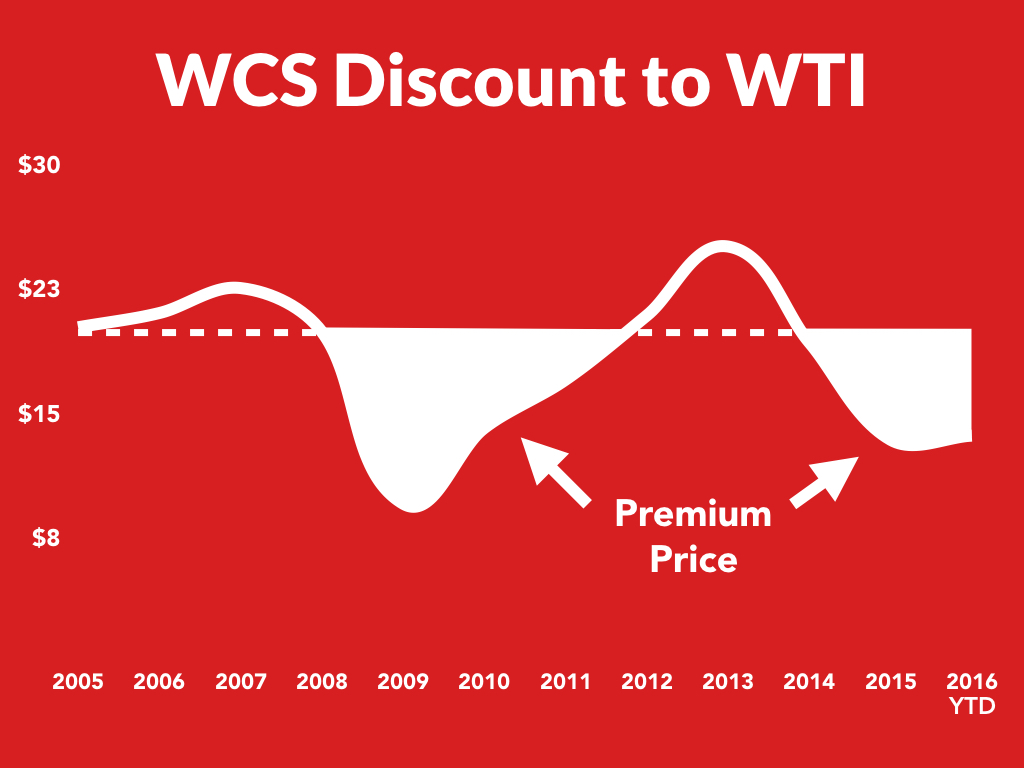 A discount of WCS to WTI of less than $20 US per barrel is considered a premium return for Alberta's heavy oil. Discounts below the dotted line on the graph represent a premium price.
The average discount for the past year and a half was less than $14 US a barrel.
Had the Board checked prices it would know there is no reduction in discounts for the project to capture.
So what about Government Revenues. The Board claims $28.2 billion over 20 years.
Burnaby and other municipalities told the Board that property tax revenues will not be enough to pay for municipal services required by the project or the lost future planning and development options. The Board ignored them. The Board pretends property tax revenue is a significant benefit.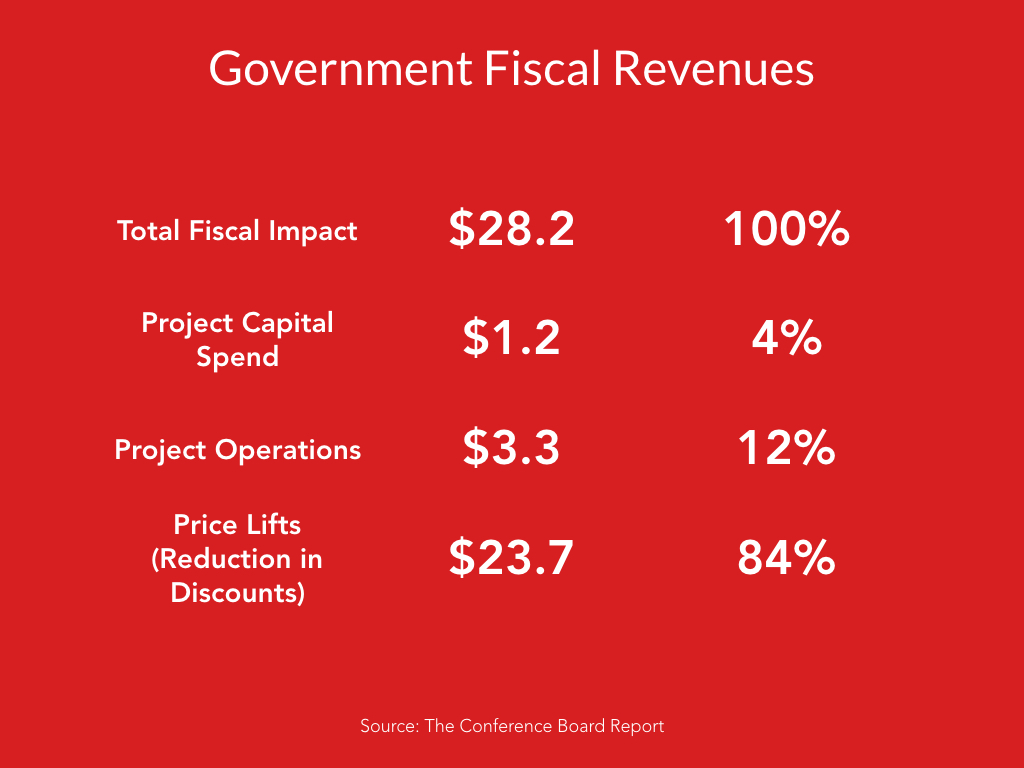 Eighty Four percent of fiscal revenues come from Mr. Earnest's non-existent $73.5 billion in price lifts.
Price lifts are not there so neither is $23.7 billion in tax and royalty revenue related to it.
Look at Project Operations. Three point three billion dollars over twenty years. Sixty percent come from corporate income tax. One hundred million dollars a year because it is claimed Trans Mountain pays corporate taxes on operating profits.
But, Trans Mountain does not.
Kinder Morgan relies on a complex corporate structure so Trans Mountain hardly pays any corporate tax at all. The Board refused to consider evidence that proves this. The Board claimed the issue was outside the scope of its review.
So, municipalities are concerned that the project represents a net cost, fiscal revenues from price lifts do not exist, and corporate taxes from Project operations are artfully avoided.
As well, the Board refused to look at a myriad of fiscal revenue losses when other sectors are negatively impacted by the Project—it ruled them outside the scope of its review.
Finally, we are left with the Board's jobs claim.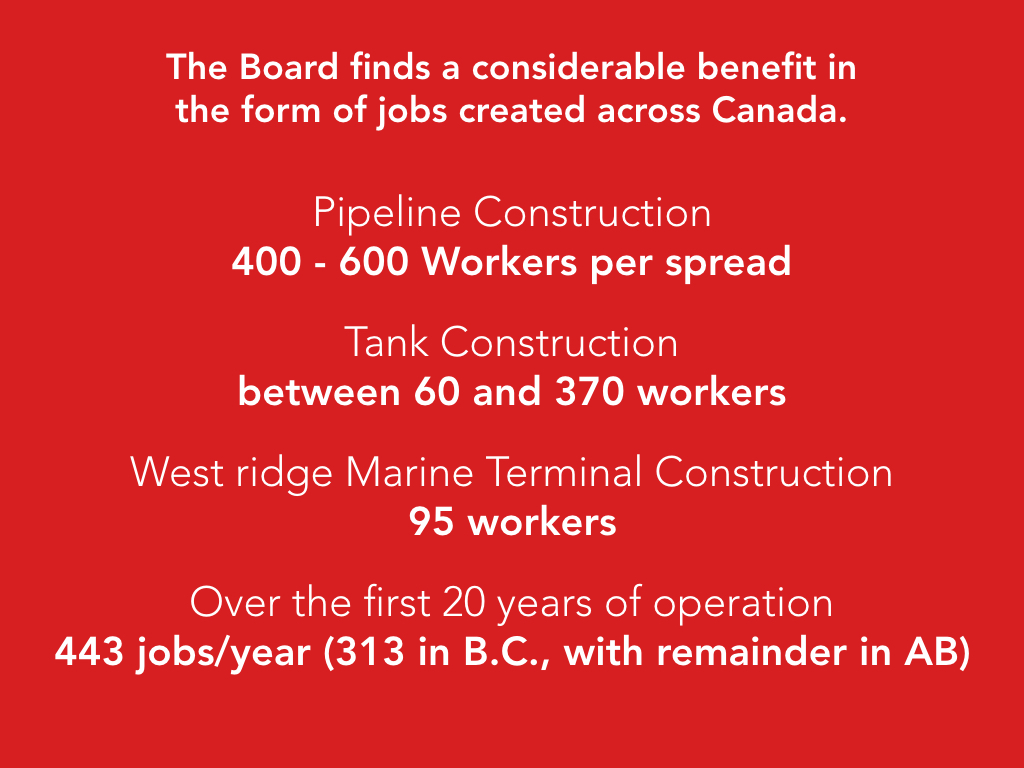 There will be short-term construction employment related to the pipeline.
However, Unifor represents 12,000 energy sector workers and 5,000 west coast commercial fishing workers and the Alberta Federation of Labour](https://docs.neb-one.gc.ca/ll-eng/llisapi.dll?func=ll&objId=2450812&objAction=browse&viewType=1) represents 170,000 unionized workers. These workers do not support the project.
Unifor and AFL said there will be a greater number of job losses in construction and permanent employment if the Project proceeds because it robs our economy of value added opportunity and crowds out existing activity particularly in commercial fishing.
The Board ruled workers concerns outside the scope of its review.
Kinder Morgan told the Board 90 permanent jobs would be created with 50 of them in BC. But the Board didn't rely on the 90 permanent jobs Kinder Morgan identified, it relied on grossly exaggerated figures from a faulty input-output analysis done by the Conference Board to assert 443 permanent jobs instead.
Under a proper scope of review, where an energy strategy for Canada and job losses across industries are considered, the jobs figures become negative.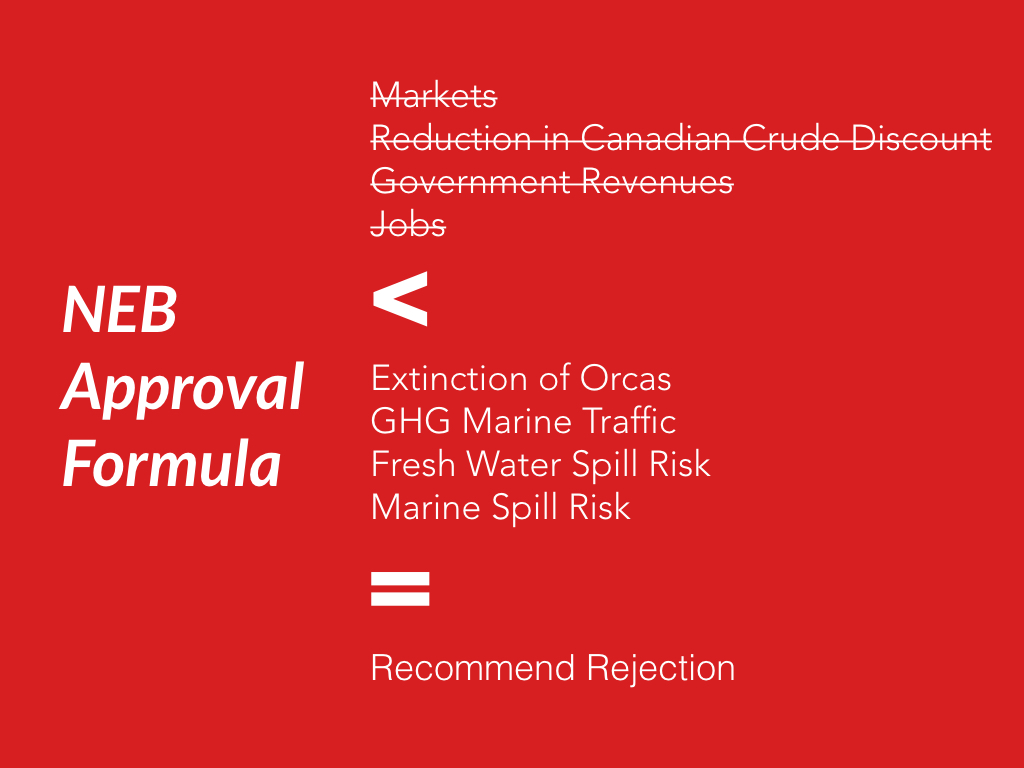 Facts show there are no existing Asian markets for Alberta's crude oil. No reduction in crude discounts to be captured. A likely net reduction in government revenues. And net job losses.
These are not greater than residual environmental burdens.
Facts show the project should be rejected, but the Board refused to consider the facts.
The Federal government is betraying Canadians by not living up to its promise to redo the Trans Mountain review and by continuing to endorse the NEB.
Canadians are not stupid. Our public interest must be served.